South Indian Wedding Traditions and Photography
All over India, the wedding industry has grown in popularity as has photography played a significant role in documenting these traditions and weddings. South Indian wedding photography encapsulates the many rituals and traditions that are prevalent in this region. Every ritual is a moral tale or folktale to be told to the next generation.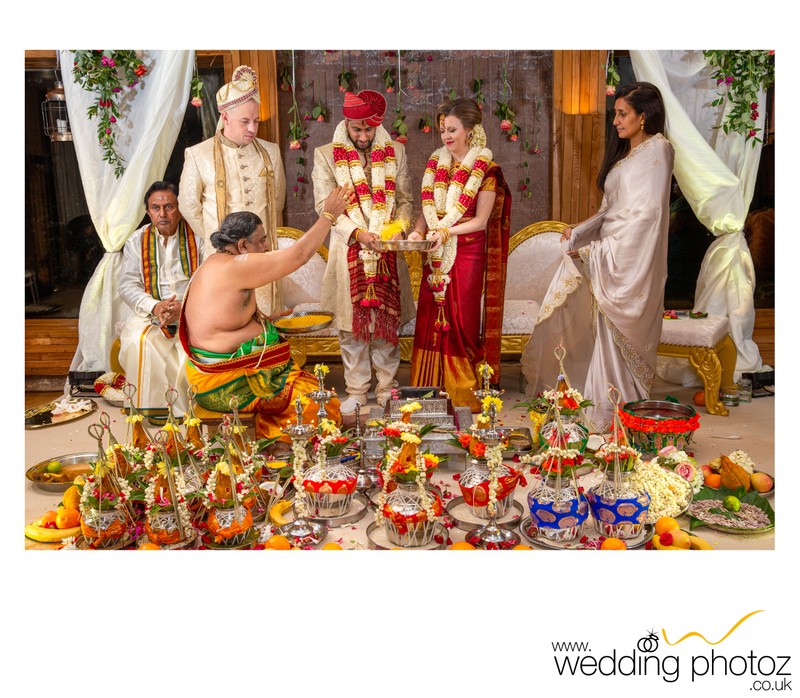 India is a land of different cultures, a mix of other languages, customs, and more. This tradition applies to Indian wedding traditions as well. In addition to cultural differences, Indian wedding traditions differ as well. Throughout this post, you'll learn about the most common events you'll see at a South Indian wedding. These events are all grand, not just for celebration and memories, but for the people and emotion. This is why couples use our services to capture their South Indian Wedding photography.
Nalugu (Turmeric Paste)
Telugu, also known as Pellikuthuru, usually takes place the day before or the morning of the wedding. An auspicious occasion in which guests apply turmeric paste to the bride and groom to protect them from the evil eye.
Mangala Snanam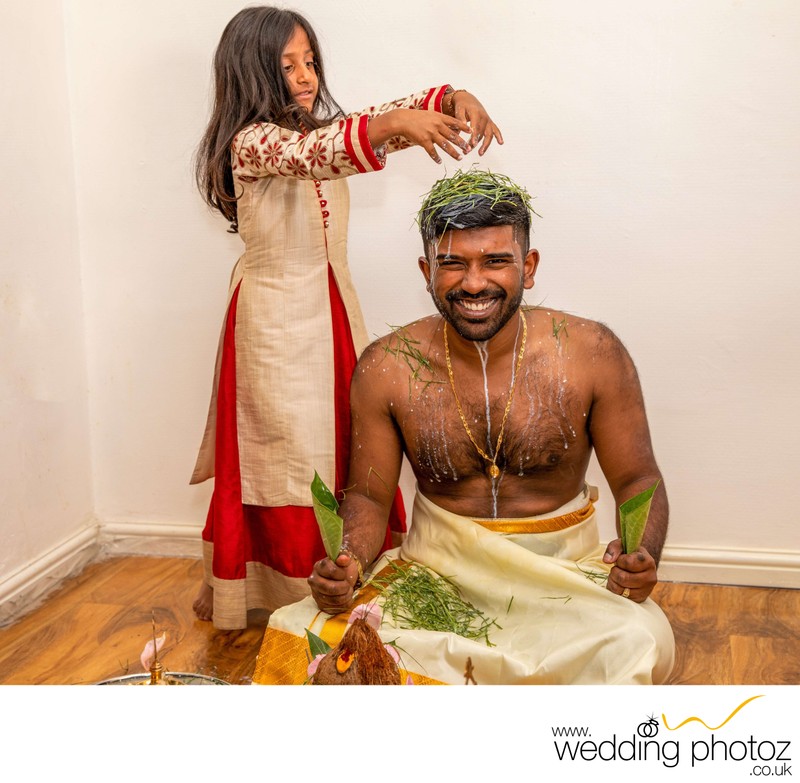 There is also a ritual called Mangala Snanam, which means "auspicious bath" in some states of South India. This ritual generally takes palace on the morning of the wedding ceremony in the bride and groom's house, respectively. Aside from applying oil to her hair, she uses a paste made from turmeric sandalwood to her face, feet, and hands. In the following ritual, the bride bathes in holy water to prepare her body and soul for the marriage ceremony to be performed later.
The Last Chance of BachelorHood ( Kashi Yatra)
Kashi Yatra is a traditional ritual practiced in South India, where the groom seeks wisdom and truth by pretending to depart for Kasi, a sacred place where one seeks truth, knowledge, and wisdom. He carries a walking stick, an umbrella, and snacks (typically coconuts and rice) for his journey. The particular ritual took place on the morning of the wedding ceremony. All you need is the best Tamil wedding photographer to capture such beautiful moments.
The Ceremony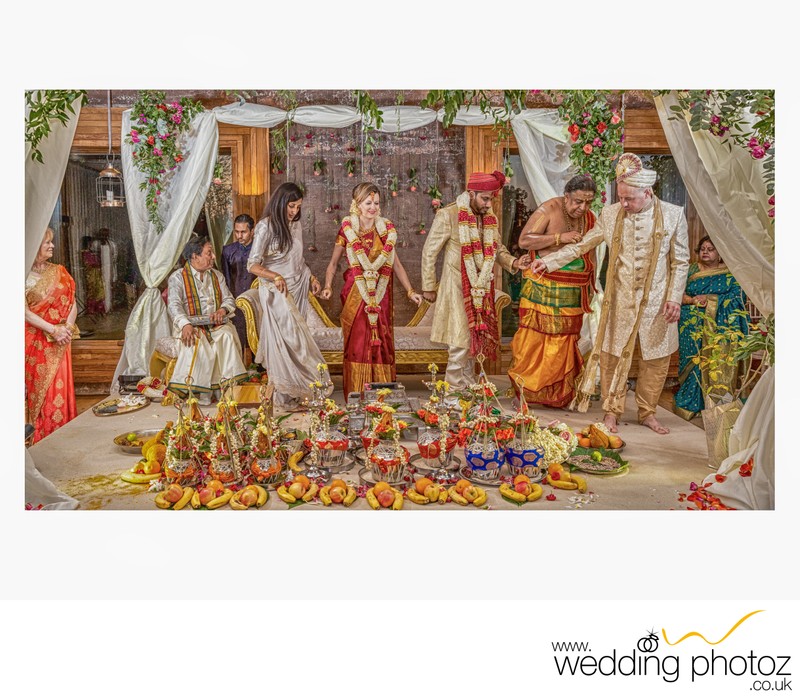 Indian wedding traditions and rituals abound at the centrepiece of the celebrations. A Sastrigal (priest) chants Sanskrit during this ceremony and performs rituals.
Thaali & Jeelakarra Bellam
In this stage, the bride will be dressed in her second wedding saree and walk to the mandapam escorted by her friends and sisters. The groom ties Mangal sutra, also known as thaali, around the bride's neck. It symbolizes goodwill, love and marks the status of a marriage. The groom ties three knots in a sacred yellow thread and attaches gold pendants to signify his promise to accept the bride. Jeelakarra Bellam (cumin jaggery) is a ritual in which the couple places a leaf with thick paste on the other's head, signifying inseparability. Indian wedding photographer beautifully captures such moments and preserve these memories for the rest of their lives.
Kanyadanam & Saptapadi (Yedu Adugulu)
Kanyadanam, a traditional moment for a Tamil wedding, evokes strong emotions for the bride and her father. When the father gives his daughter in marriage to the groom, this ritual occurs. The Sanskrit term Sattapadi denotes the seven promises of life. It is also called Yedu Adugulu.
Dress Code For South Indian Weddings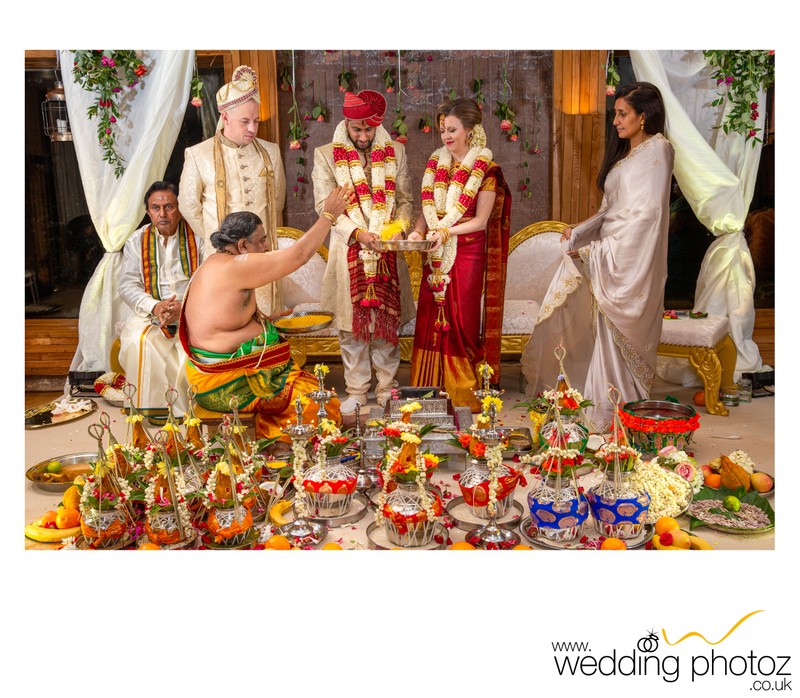 South Indian brides wear mostly the Kanjeevaram saree. Having the right jewellery and accessories is an integral part of the overall look of a South Indian bride. In South India, Hindu weddings are usually held in the morning, according to the muhurat. While South Indian traditional wedding attire varies, silk Kanchipuram sarees and Langa vonis are the most common and conventional.
Typically, a man wears a silk shirt and veshtis (a cotton or silk cloth draped around the waist and legs). Styles have changed today, so you may see some wedding guests wearing various kinds of lehengas and sarees.
We photograph what we see when it comes to our South Indian wedding photography and our work is exquisite as you can see in the above photograph.
Food
Wedding meals in South India are essential parts of the celebration. They are elaborate affairs that the hosts give the most attention to. Typically, there are up to a dozen items on the menu, and almost all of them are served in one sitting on a banana leaf. The side of the banana leaf on which it is folded after the meal may seem quirky and insignificant, but it is incredibly symbolic of South Indian culture.
Fun and games
South Indian weddings can still be fun, and not all rituals are tedious earnest prayers and promises. It is common for the bride and groom families to hire Indian wedding photographers and capture these fun moments.
There are several pre-wedding rituals in South Indian weddings during which the bride and groom play games.
Final Thoughts
Arranged marriages are still common and traditional in South India. Families often take the task of choosing the suitable bride or groom for a wedding. The South Indian wedding is full of fun and emotion, and people make a lot of memories. Book you consultation for your South Indian wedding photography. We have over 12 years experience in wedding photography and we pride ourselves with our Tamil Hindu wedding photography. Why not get in touch to discuss your South Indian wedding photography and videography.
Articles you may be interested in:
North Indian Wedding Traditions
Please contact us on 07766 86 22 33 for availability.
Links to Social Media: Instagram FaceBook (Meta)
We cover all Asian weddings such as Sikh Wedding Photography, Indian Wedding Photography, Hindu Wedding Photography and Tamil Wedding Photography
We provide South Indian Wedding photography to almost all areas of the UK specifically to London, Harrow, Bushey, Finchley, Barnet, Ealing, Watford, Rayners Lane, Ruislip, Wembley, Moor Park, Surrey, Leicester, Birmingham, Luton, Midlands to name a few. Destination wedding photographer.
We cover all Asian weddings such as Sikh Wedding Photography, Indian Wedding Photography, Hindu Wedding Photography and Tamil Wedding Photography. Get in touch to know our availability and pricing.
London Wedding Photography and Videography | WeddingPhotoz
South Indian Wedding Traditions